Rising Star Quilt Show 2019
The 2019 Rising Star Quilt Show
Our 32nd annual Quilt Show was held Friday October 4 & Saturday October 5 at St Brigid Church,1995 Massachusetts Ave. Lexington, MA
Viewers' Choice Winners
Large Quilts
1. Margaret Hallisey, Kaleidoscopes
2. Arlene Gavan, The Good Old Days
3. Evelyn Rossin, Speak Softly to Me
Art Quilts
1. Sue Colozzi, Salt Marsh Egret
2. Cathy Papazian, How We Met
3. Atara Halpern, Synapse
Small Quilts
1. Judy Botsford, Coneflower Boogie Woogie
2. Sue Sharer, Bunny Hollow
3. Carol Miller, Etoile Pour Oliver
Challenge Quilts
1. Marita Hartshorn, Henry
2. Rita Alesi, Desi
3. Nancy Soyring, I've Always Wanted to Be A Mermaid
Viewers' Choice Winners
For photos of the Viewers' Choice Winning Quilts from this year plus all the winning quilts since 2001
See All the Quilts
The quilts are divided into:
Large, Small and Art Quilts and Quilted Objects. The quilts are arranged alphabetically by quilters' names.
Bee Challenges
Sewatorium Sisters Tea Challenge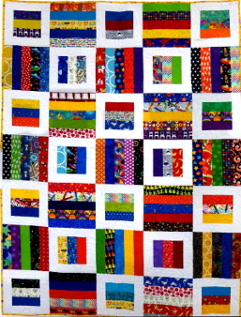 WAQ Quilters Tree Challenge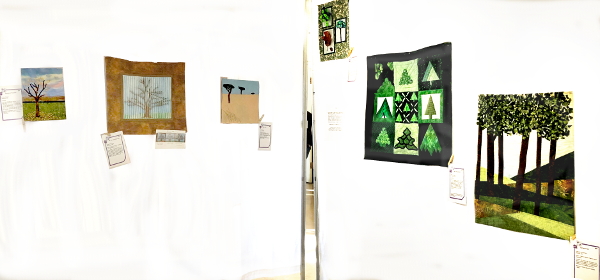 2019 Raffle Quilt: Just Around the Corner
This queen size quilt is constructed primarily with one fabric as shown in the border. Identical squares are cut, rotated, and sewn in blocks surrounded by sashing and keystones. This contemporary color scheme will fit well in both modern and traditional settings.
To see a larger version of the quilt or the close up, please click on the images.
Past shows