Rising Star Quilt Show 2006
The 2006 Rising Star Quilt Show
The 19th annual Quilt Show and Sale was held on
Saturday & Sunday, October 14th and 15th, 2006
at Cary Memorial Hall
1605 Massachusetts Avenue in Lexington Center
See All the Quilts
The quilts are divided into:
Within each category, the quilts are arranged alphabetically by quilters' names.
People's Choice Winners for 2006
Visitors to the show voted on quilts in three cagegories
Large quilts
Wall quilts
Challenge quilts
Here are this year's winners!
For more information on these quilts.
Click on the pictures to see a larger image of the winning quilts.
Revolution by Nancy Howard
1st Prize, Large Quilts
Oriental Fantasy, by Sarah Griffin
2nd Prize, Large Quilts.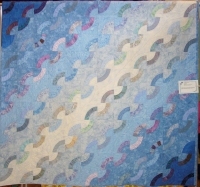 Mississippi Sky, by Carol Brown
3rd Prize, Large Quilts.

Stellar Pinwheels, by Christina Crouch
1st Prize, Wall Quilts.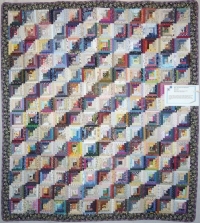 An Album For My Mother, by Kendra Dowd
2nd Prize, Wall Quilts.
"into The Forest", by Arline Morrison
3rd Prize, Wall Quilts.

Where's Buddy?, by Penny Sander
1st Prize, Challenge Quilts.
Red Eye, by Shirley Ament-Bergey
2nd Prize, Challenge Quilts.
Winter, by Amy Bursey
3rd Prize, Challenge Quilts.

General Quilt Show Photos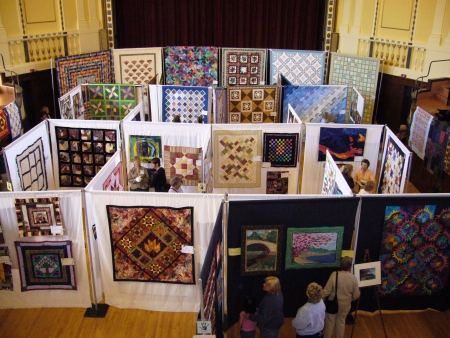 ---
Gallery talks by Jean and Peter Stringham, our featured quilters.

2006 Raffle Quilt: Indigo Journey
Front
Back
A queen size, 78" x 98" hand-quilted, batik quilt.
The inspiration for Indigo Journey came from Judy Turner's Bento Box pattern in the book, Successful Scrap Quilts, from Martingale. The simple but elegant quilt has lush fabrics, some interesting handwork and an interesting back. It was lovingly constructed and hand quilted by members of Rising Star Quilters Guild.