Rising Star Quilt Show 2007
The 2007 Rising Star Quilt Show
The 20th annual Quilt Show and Sale was held on
Saturday & Sunday, October, 13-14, 2007
at Cary Memorial Hall
1605 Massachusetts Avenue in Lexington Center
See All the Quilts
The quilts are divided into:
Within each category, the quilts are arranged alphabetically by quilters' names.
People's Choice Winners for 2007
Visitors to the show voted on quilts in three cagegories
Large quilts
Wall quilts
Challenge quilts
Here are this year's winners!
For more information about these quilts and the winning quilts since 2001
Click on the pictures to see a larger image of the quilts.
My Grandmother's Flower Garden by Shirley Ament-Bergey
First Prize Large Quilts.
Priscilla's Quilt by Peter Stringham
Second Prize, Large Quilts.
Wedding Ring by Delores McCravy
Third Prize, Large Quilts.
Il Sentiero Dei Ricordi (path to memories) by Jeanne Funk-Gedies
First Prize, Wall Quilts.
Summer Solstice by Judy Botsford
Second Prize, Wall Quilts.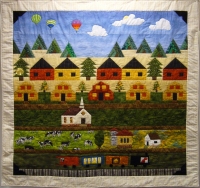 Memories by Delores McCravy
Third Prize, Wall Quilts.
Twenty Star Attractions by Jean Stringham
First Prize, Challenge Quilts.
Star Dust - An Amish Quilt Off The Edge by Ginny Leonardos
Second Prize, Challenge Quilts.
20 Rising Stars of Quilting by Christina Crouch
Third Prize, Challenge Quilts.

2007 Raffle Quilt: Connected Stars
A queen size, 90" x 104" hand-quilted, quilt.
This queen-size quilt is made up of a vibrant selection of blue, yellow, aqua and white fabric in a variety of star patterns. Of course there are Rising Star blocks in the corners. It has been lovingly constructed and hand quilted by members of Rising Star Quilters Guild.

RSQ Quilt Show Vendors 2007
Offers fabric, buttons, notions and classes. Also sells Pfaff sewing machines
Machine sales and service for Bernina, Pfaff, HQ16 as well as threads, fabric, books and classes
Online quilt shop offering notions, fabric, wool felt, books, original designs and gift items
Photo editing software with application to photo transfer for quilters
Hand-dyed fabric
Online quilt shop specializing in African, Japanese and Dutch Java fabrics for quilters
Distributors for AURIfil Thread
Unique Supplies & Workshops for Mixed Media & Quilt Art

Mr. Wizard's Scissor Sharpening

Bring your scissors and tools have them sharpened at the show
(401) 792-1685

Pascale Books

Second-hand quilting books
Hand-dyed fabrics and courses in quilting techniques
Repair and sales of sewing machines-Janome, Pfaff, Singer
Large selection of patterns for quilts, applique quilts, penny rug and redwork
Boston-based tour operator and travel consultancy specializing in Italian vacation opportunities with emphasis on materials and yarns.

Past shows