Rising Star Quilt Show 2016
The 2016 Rising Star Quilt Show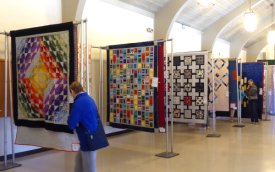 The 29th annual Quilt Show and Sale was held on Friday & Saturday, October 14 and 15, 2016
People's Choice Winners
For People's Choice Winning Quilts from this year plus all the winning quilts since 2001
This year visitors to the show voted on quilts only in the Challenge category
Challenge quilts The Elements:Earth, Air, Fire and Water:
1st - It's Elemental, My Dear, by Judith Bunting
2nd - Fire Brings New Growth, by Jessica Gillis (tie)
2nd - Ice Out, by Carol Brown (tie)
3rd - Sun Bonnet Sue Embraces the Elements, by Marita Hartshorn(tie)
3rd - Beach Fire at Bayview, by Cathy Papazian (tie)
See All the Quilts
The quilts are divided into:
Large and Wall Quilts and Quilted Objects
Within each category, the quilts are arranged alphabetically by quilters' names.

Pictures from the show
Click on the pictures to see a larger image.
2016 Raffle Quilt: Rhapsody in Blue
RSQ's 2016 raffle quilt "Rhapsody in Blue" is the product of a collaborative effort of the Rising Star Quilters Guild. This beautiful machine pieced 86" x 97" quilt is a geometric design that combines rich hues of blues and purples with an exciting "pop" of green accents. It is truly a "Rhapsody in Blue" with its deep jewel tones and and wide variety of fabrics. Quilter's Way granted permission to use their copyrighted pattern, "Twisting Again." The quilt is machine quilted using a colorful variegated thread in an all-over field design that is highlighted on the blue-marbled backing. The guild's signature rising star block and label are displayed on the back. A portion of the proceeds will be donated to the charity "REACH - beyond domestic violence".
To see a larger version of the quilt, please click on the image.

Past shows